Table of Contents
V2 AIO Box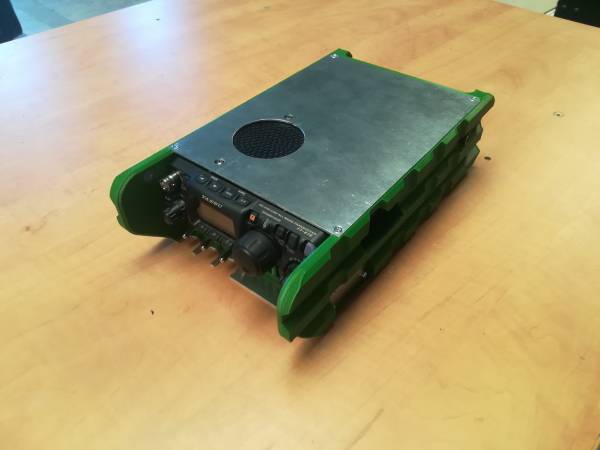 Changelog
Box has now some rear legs to permit to do not install it vertically on the fans.

It is 5mm thicker than the V1, in order to permit to install 18650 battery pack, or 26650 battery pack with battery holder (to allow to make a battery pack without soldering)

The bottom has been replaced by a CNC milled aluminium plate, which acts as a heatsink for the Pi4, which is now upside down, with thermal contact of the chip to the aluminium plate, by the mean of an aluminium block. This to trigger the fan cooling less, just really in extrem needs (if you are in hot places).

The DC connectors area on the left is now with an aluminium plate, which permits to adapt only the plate to different types of connectors (in standard XT60, but can be adapted to Anderson Powerpole as well or others).

The right side hole for the USB charging port, from the step down converter is now with an aluminium plate too. Modularity is the key and it's possible to adapt to several configuration just by changing the plate.

External DC connectors are reduced to only one connector, which acts as a DC in PSU, charging port for battery back → an internal lithium charging board is now installed inside the box, so there is no need to have another charger for the lithium, just a 13.8V to 16V DC input can charge the lithium battery pack.

New wiring diagram for the setup, which is simpler.

USB GPS dongle has been tested to work well on V1, even it's installed inside the box. The signal is still well received by the dongle, so it's not planned to change.

Better hole for disconnecting the microphone plug, to be able to put the thumb to release.
Specifications
Overall dimensions : 272x156x74mm

Weight : 2150g with everything (FT-818 + its battery pack, AIO battery pack, RPI4, wires, connectors, etc)

Material for printed parts : PLA or PETG

Battery pack capacity : Lithium ion 3S2P 6600maH + internal FT-818 battery pack

Cooling : passive and active with thermal switch

Plates material : 2017A aluminium (no paint or electrolitic treatment)
Wiring diagram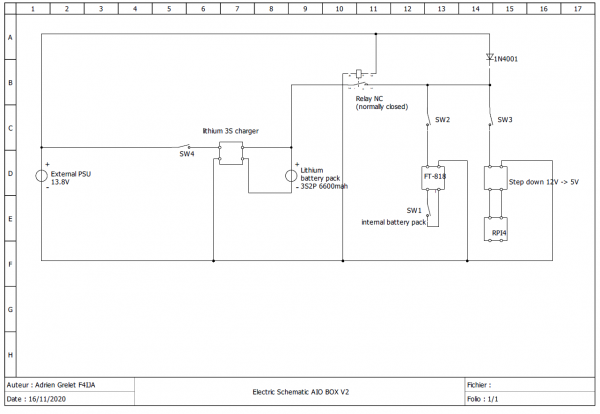 electric_schematic_aio_box_v2.pdf
This diagram is a lot more simpler than the V1 version (for which I didn't make one).
There is the need to add a relay to cut the battery pack if there is an external power supply connected, to prevent damaging the battery pack.
Also, a new switch is added, SW4 to activate the charging process with the internal lithium charger.
That way, the SW2 and SW3 are not sources of errors, if they are on either the PSU is connected (to avoid injecting DC in the battery pack).
List of components
| Designation | Qty | Link | Notes |
| --- | --- | --- | --- |
| Lithium charging board 3S 2A | 1 | link | to charge the battery pack |
| Lithium cells 18650 3300mah | 6 | link | to make a 6600mah 12.6V battery pack |
| BMS lithium 3S | 1 | link | to balance and protect the battery pack |
| Relay 12V | 1 | link | to cut off the battery pack when an external PSU is plugged |
| Jack socket 3.5mm | 1 | link | for connecting a CW key if you are a CW op ! |
| XT60 socket with screw mount | 1 | link | one for external power for FT-818 and second one for the RPI4 |
| Switch for charging board | 1 | link | to activate the charge of the battery pack |
| Good quality lever switches | 3 | link | To select power supplies or battery, see below explanations |
| SO239 connector with base plate | 1 | link | |
| 40x40mm fan protection + filter | 2 | link | |
| 40x40mm fan 12V | 2 | link | |
| Thermal switch 55°C NO | 1 | link | to switch on fans when temperature is reaching a limit |
| 12V to 5V step down + USB | 1 | link | To power the RPI4 and eventually to recharge your smartphone device |
| RJ45 socket | 1 | link | To directly connect to the RPI through RJ45 |
| 4mm banana socket | 1 | link | for counterpoise connection |
Passive cooling system
Regarding the V1, the V2 integrate a new passive cooling system to cool down the RPI4.
The RPI4, with its power, is also a small heater and for field op, I don't want to fry it with to high temperature on the main processor.
So on the V1, I've added some fans at the back of the box, with a 40°C thermal switch to trigger once the temperature was above that to cool it down.
But with that system, event it's working, was that the fans were trigerred almost all the time, 5 minutes after the RPI booted up.
The fans noise and the extra current consumption is not a really good idea.
On the V2, the whole bottom of the box has been replaced by an aluminium plate to create a heatsink with a small CNC milled aluminium block, in contact with thermal paste to the processor :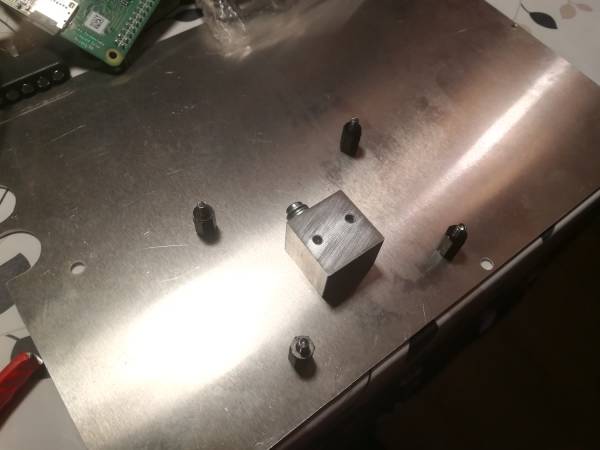 The thermal contact is now screwed on the aluminium block and it's now a 60°C version :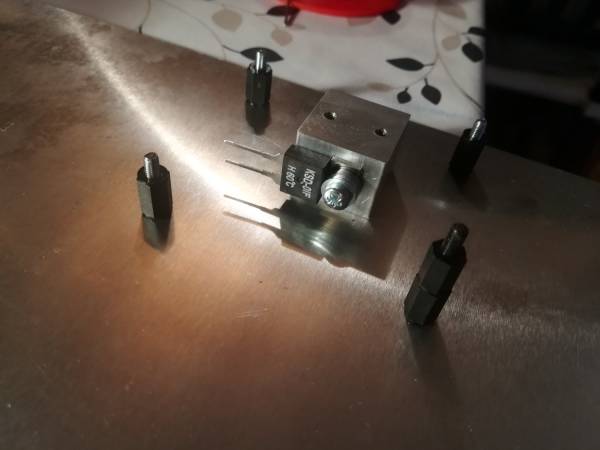 With that setup, the RPI4 is installed upside down but it's not a bad thing, because I've now a better access to the µSD card, to back it up.
Fans are still installed outside the box :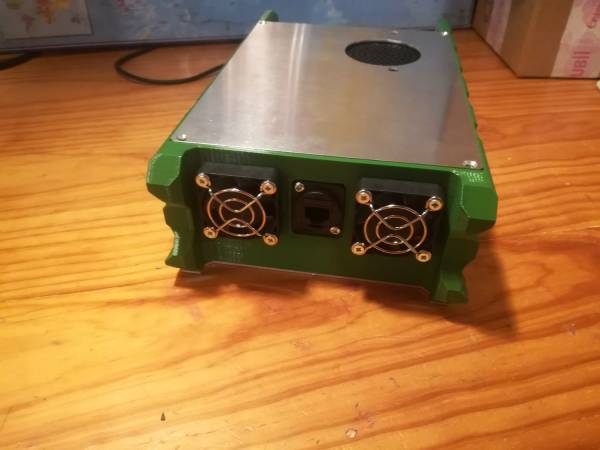 But with that passive cooling, I was not able to trigger them for now. I leave them in case of extreme situation, for example in field operation in a very hot area (desert for example).
The bottom plate is now a bit hot after an hour of continuous use of the RPI4, maybe 38°C (didn't measured accurately for now). But there is still a lot or margin before trigerring the fans.
The result is now a very well integrated RPI4, with an efficient cooling.
Pictures